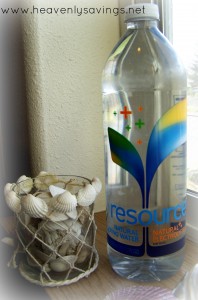 Resource Natural
Spring Water Review!
My thoughts on Resource natural spring water with natural electrolytes – Now everyone has heard of the advice that we all need to be drinking at least 8 cups of water a day. I definitely know that I should be drinking more water, honestly most of the time I do not get to the suggested 8 cups a day. Wait, does the water in my coffee count? Because if it does then I am definitely getting my daily limit in! Ok ok, it doesn't count and I know that.
But, I have had the opportunity to try Resource natural spring water with natural electrolytes in it and at first I was thinking, water is water…how different can it be? To much embarrassment of my husband, I have a hard time telling the difference between the tastes of many things including two major soda companies…I know, my taste buds just haven't ever been that judgmental ok?! He rolls his eyes at me…but then this water came and I was excited to do a little experiment. We took a cup of water from straight from the tap and then poured a cup from the bottle of Resource and I sat my husband down and had him try both without him knowing which was which of course!
Sure enough, my husband, the foodie he is, knew right away the tap water was because he barely got the water to his tongue before he crinkled his nose. Yes he is kind of tuned in about all this food & drink and the differences between them. So then the table switched and it was my turn for him to give me the test. I honestly had to takes a few sips of each going back and forth and really concentrating on the taste of water…which sounds just silly to me. But after about three sips of each I was able to distinguish the difference because the tap water had hints of metal taste and the Resource was so clear and light.
This water isn't just a regular bottle of water and it certainly is not water out of the tap and trust me, you can tell. This water is enhanced with electrolytes which just makes it that much better for your body!
This water is now my husband's favorite bottled water and maybe now we might be able to get down our suggested daily amount!
~Tammy~
** I was sent a product for the purpose of this review. However, my own opinion was used and not influenced in any way.