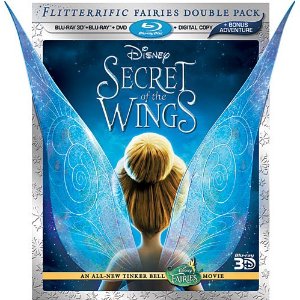 My Thoughts on Disney Secret of the Wings
Disney has done it again! Yet another amazing Tinker Bell movie! This one I can say is honesty my favorite out of them all! In Disney Secret of the Wings you will go on an adventure with Tinker Bell as she meets her sister! Yes that is what I said…her sister! The only sad thing about their meeting is knowing that they will not be able to see each other and get to know one another the way they want. Why? Because Tinker Bell is not a Winter Fairy. As she try's to get to know her sister she realizes how dangerous it really is as her wings begin to freeze.
When Tinkers Winter Fairy Sister decides to visit Tinker Bell at her home they discover that the warm heat is just too much for her. What are they to do? They want to know each other but it is forbidden to cross between Pixie Hallow and the Winter Woods.
On the Back
Disney invites you on an incredible journey to an amazing new world, in a motion picture event that will take your breath away. Experience the magic like never before in the High Definition!
For the fairies of Pixie Hallow, the Winter Woods are strictly off limits. But when a mysterious force draws Tinker Bell to cross the border into this unknown world, she discovers a secret that will change her life forever. She comes face-to-face with  frost fairy named Periwinkle, the only fairy who can help unlock the secret of the wings.
With fun and laughter, they form a magical connection and make an astonishing discovery…they're more than friends, they're sisters! When Pixie Hallow is threatened, this perfect pair must work together to save their two worlds. Disney's Secret of the Wings will make you believe in the unbreakable bonds of friendship and sisterhood, and will change Pixie Hallow forever.
**I received a copy of this title for the purpose of this review. However, my own opinion was used and not influenced in any way.