My Thoughts on Beam N Read
I am an avid reader. Each night I love cuddling up in bed with a good book. The only down fall is my hubby does not like it. It is hard for him to sleep when I have the table lamp on. This has been an ongoing battle since we were married. I have tried those lights that clip to books and such but to be honest they just become more of a hassle then they are worth.
Recently I was sent a Beam N Read for the purpose of this review. I was so excited to try it out because it finally gave me something that would help me to read at night with out keeping my husband awake. The Beam N Read goes around your neck and as soon as you flip the light out it starts to shine. You have the option of turning on 3 lights or 6. The 3 light option works best when I am trying to read and is dim enough for my husband. There is also light covers that help to dim the light for him. I can use the light with the regular clear cover or I can put a red or orange cover over the light. It is super easy to do and very handy.
My husband even loves the Beam N Read. It would work great for camping trips or at times when you need a light but your hands free. Are you a night time walker or a needle crafter? This Beam N Read would work amazing! I could have really used this during Halloween when my daughter was trick or treating! What fun!
 The Beam N Read is a LED6 Deluxe Hands Free Light and retails for $29.95!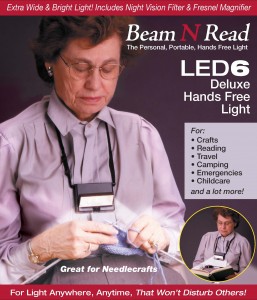 I participated in a campaign on behalf of Fashionista Events hosted by Still Blonde after all these Years and Modly Chic for Fashion:  I received a review product as a thank you for participating. Fashionista Event bloggers are not responsible for sponsors that do not fulfill their prizes