What's Your Fridge Wearing? How To Incorporate Your Fridge Door Into Your Kitchen Design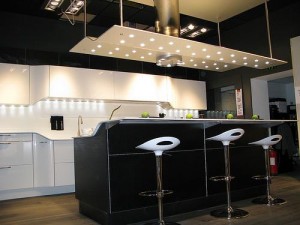 If you've secretly thought that a plain silver, black, or white fridge door was rather boring then you may be surprised to know that some manufacturers and designers actually agree with you. A blank fridge door is not particularly inspirational within your kitchen design, and it could be argued that it doesn't do justice to your fabulous new kitchen rta cabinets. Fridges and other modern appliances are just crying out to become bold and colorful, interesting and stylish. The fridge can be painted whatever color you fancy and decorated with a plethora of designs to reflect a mood, add energy and enhance a theme.
In any kitchen a fridge door is a fantastic blank canvas which could in fact become the focal point of your kitchen and actually enhance your wood kitchen cabinets. It's not difficult to transform a fridge door into a show stopping piece of artwork with paint or decorative stickers.
Manufacturers such as Smeg, Bosch, ARDO, and numerous other large manufacturers have been experimenting with the appearance of fridge doors for quite some time and graphic designers are offering all sorts of beautiful images and colorful doors in shades of red, purple, yellow, light green, and even crazy animal prints like zebra and leopard. If you're proud of being an American, you could opt for a a stars and strips flag theme with the Statue of Liberty in the background, or if you've chosen a country style kitchen then how about decorating your fridge door with a giant sunflower? If you're the proud owner of a contemporary kitchen filled with black kitchen cabinets and stainless steel then a stylish night skyline filled with skyscrapers would look amazing. The only limits are your imagination.
When you think about it, fridge decorating is not such a crazy idea. A fridge decorated with a zebra design can bring in a bold look to the kitchen and create a positive and cheerful mood. Painting or decorating your fridge can also involve the kids and some manufacturers have designed their fridge doors to have a certain black or white coating that can be drawn on with special markers. If that sounds a little too risky, you and the kids could still have fun experimenting with colors and ideas to brighten up your kitchen and give it a totally unique edge.
Unusual kitchen décor ideas such as this one, can add interest and beautiful colors to what could otherwise be quite a plain kitchen design, and if you get bored with your design, it's easy to start all over again.