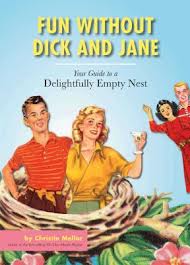 My Thoughts on Fun Without Dick and Jane
By: Christie Mellor
We spend 18+ years dedicating our lives to our children. Cleaning up after them, making sure their homework is done, checking in on their whereabouts, etc….But, what happens after they leave? Although, it may feel like our lives have come to a sudden halt…they don't! We are still alive and expected to change everything we have done for 18+ years in the drop of a hat!
Fun Without Dick and Jane is a hilarious book about life after the kids. Truth be told you can do anything YOU want to do now! Christie Mellor has a great way of making you see the light. She will help you find yourself again and learn how to have a great time without the kids. Stay up late, step out and do something with your life! You will be glad you did!
I loved this book. I am far from having the kids out of the house but I know that when that day comes I will enjoy my life in a way that I have not been able to do in years! Not that I don't love having kids but every step in life is a new journey. I enjoy having my daughter home with me and I would not change it for the world. But, one of these days it will be time for her to leave the nest as they say and I am not going to let myself get down about it. Life continues!
On the Back
From Christie Mellor, best-selling author of The Three-Martini Playdate, comes this hilarious (yet helpful) guide to recovering from getting your little angel of the house.
Mellor answers pressing questions and speaks to important issues such as:
Was $200 an hour too much to spend for exam tutoring?
How do I gracefully let go? (Moving to an apartment near campus is not an option.)
Just who is this guy I found in my bed this morning? (Rediscovering your spouse.)
Staying up late, joining the circus, interpretive nude dancing, and other ways to enjoy your new-found freedom.
**I was sent a copy of this title for the purpose of this review. However, my own opinion was used and not influenced in any way.