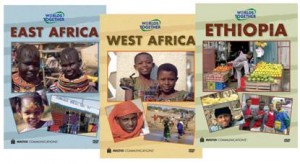 I love educational movies. In the Worlds Together series you will be introduced to what life is like in a variety of places. I was sent Ethiopia for the purpose of this review and I was thrilled. Ethiopia is a place that I have not really taught my daughter about and it was able to open up new and interesting conversations.
When you watch Ethiopia you will really feel like you are there. You get to see great sites and learn about their culture. I also love how the Worlds Together Ethiopia video is made in a way to captivate the childrens attention. My daughter loved watching the whole video and had a lot of fun learning lots of new things!
The Worlds Together Ethiopia video is 25 minutes!
On the Back
Ethiopia provides a ground level view of a lightly visited part of the world. Visit the cities of Harar, Addis Ababa. See the 800 year old Christian churches of Lalibela, some carved into volcanic rock. See the wonderful diversity of the people of Ethiopia as they go about their lives. This is glimpse in time of a people just shaking off the slumber of isolation, about to join the world.
**I was send a copy of this title for the purpose of this review. However, my own opinion was used and was not influenced in any way.