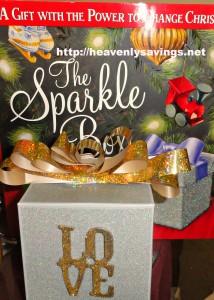 My Thoughts on The Sparkle Box
By: Jill Hardie
WOW! I have found a new holiday tradition that I will do for years to come! Recently I was sent a copy of The Sparkle Box for the purpose of this review. I was intrigued to read this book as I just had to know what was inside of this magically sparkly box!
The Sparkle Box book is about the true meaning of giving. I don't want to giveaway the end of this book but it shows how this gift is the most special of all. There is no gift greater then the gift of giving and when you give to others you are also giving to Jesus. How special! I was also ecstatic to see that this book contains a 'sparkle box' that I was able to fold into this beautiful box you see pictured above. I also found the great LOVE sticker and the gold ribbon in my craft room to make the box extra special.
My daughter will be filled with excitement when she lays her eyes on this beautiful sparkle box and just like the Mom in this book I will not tell my daughter what is inside until Christmas morning! I am so excited for her to not only open this beautiful box but to read the story that goes along with it! This will be the perfect holiday tradition to add to the festivities! Plus it will help us to hold on to the true meaning instead of getting wrapped up in all the glitz and glamour of the media!
On the Back
Sam can't wait for Christmas! He's excited about the parties, the food, and, of course, the presents. One gift has him especially curious – a sparkling silver box on the mantel. Sam's parents will only tell him that the Sparkle Box is a special gift they will open together, but that they need to fill it first. Meanwhile, as Sam and his family give to people in need throughout the season, he starts to see how fortunate he really is. And on Christmas morning, when Sam finally opens they mysterious Sparkle Box, what he finds inside sheds light on the true meaning of Christmas.