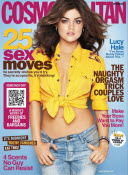 Don't miss out on 2 Free Issues of Cosmopolitan! This is courtesy of Value Mags and there are NO strings attached  You will NOT receive a bill! The issues will begin with December 2012 issue! Enjoy!
* Remember you DO NOT have to complete any of their offers! Just click no and you will still get your 2 free issues!
-Thanks FreeStuffTimes!