ThredUP
I have recently been exposed to one of the coolest ways to keep my kids wearing stylish name brand clothes for extremely cheap, plus getting a credit with your used name brand clothing to shop for bigger sizes! I am not talking like a little discount here, what I am talking about is the feeling when you go to the sales rack that says 75% off and they actually have cute clothes that are the size your child wears. That kind of discount. Items you just cannot pass on because they are too good of a deal!!
ThredUP is an online company that allows you to shop from the comfort of your own home on superb second hand name brand clothing for your children. My family has recently moved near Seattle, WA and one thing I noticed right away, was how green and eco-friendly we needed to be. We need to learn how to be more self -sustaining and not throw out so much and learn to reuse what we already have.
ThreUP is one of the ways that helps the plant and helps others reuse great quality clothing for our children. I am going to show you how easy this website is and how convenient it is to put your children in name brand clothing and save you a lot of money. Plus be able to get rid of the clothes your children have outgrown and get a credit for the next purchase!
First you should go visit ThreadUP through this link  and from there you can search for what your child needs. You can filter your search by the size your child wears. My daughter is in between a nine and 10 so I was able to put both of those sizes in and from there I was able to pick what type of clothing such as skirts, or dresses or jeans. Once you have purchased your items you will have the option of adding a ThredUP bag to be mailed to you. This is the way you can ship the outgrown clothes back to them for credit. They pay for the shipping so it is completely free to you! If you share with your friends and they make purchases you will also get a credit. It really is a win win!
Here is what came in the mail –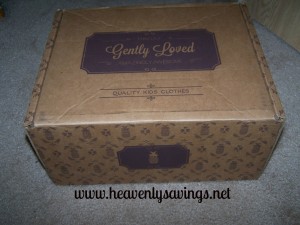 http://www.thredup.com/535118 is my sharing link so you can also enjoy a great savings on clothes and get a credit and help someone else be able to purchase great quality clothes for a price we can all afford!
~Tammy~