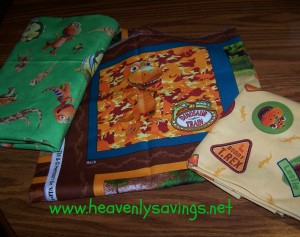 Quilting Treasures
Dinosaur Train Fabric 
Now, to be honest with everyone, including myself, I am not seamstress. I was given a sewing machine by my grandma before I was married 13 years ago. I had high hopes to sew and I did have a moment of inspiration to try a straight line and it ended up in knots within seconds. I put the sewing machine quickly back into the case and locked it away for years.
Thirteen years have passed and just recently a friend of mine asked to help her sew a costume. I was ready for the challenge of how to thread the machine and try a straight line again. We figured it out together and it was such a great sense of accomplishment!
Then I was given this great opportunity to find something creative to do with this adorable Dinosaur Train Fabric by Quilting Treasures! I am a huge fan of the adorable and educational cartoon Dinosaur Train. If you have children and haven't seen it you need to, I even made sure my nephew watched an episode because I had the perfect idea for a gift for him using this material!
My husband was a tad skeptical of my high ambitions. I have only sewn three straight lines in 13 years. But I knew I could do it, I had this great fabric to work with! This fabric is so bright and cheerful and any child would love to get something made from this!
I decided to get some chalk board paper and create a sort of placemat for my 4 year old nephew when he is in restaurants to keep him busy and quietly entertained. This is something that he can carry around and take anywhere he wants and draw with chalk on and it was with the bright and cheery Dinosaur Train material!
Needless to say I might have a few curvy lines in there but I did it! My husband was very impressed with my new abilities to sew a little…he may even trust me to fix a pair of his work pants! I am planning on making a few more of these little placements for my own two children. They love Dinosaur Train and this material!
Head over to www.quiltingtreasures.com and check out all the great material they have!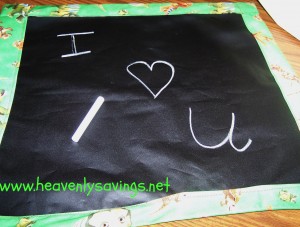 ~Tammy~
** I was sent a copy of this product for the purpose of this review. However, my own opinion was used and not influenced in any way.