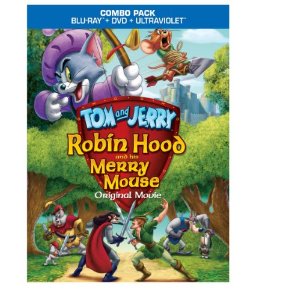 My Thoughts on Tom and Jerry Robin Hood and his Merry Mouse
Tom and Jerry is one of those cartoon classics that I am happy to be able to share with my daughter. I love the fun adventures they go on together and the addition of Robin Hood just makes it all the more fun. In this fun loving DVD you will enjoy watching Tom try to out do his mouse enemy along side Robin Hood and his outlaw gang.
On the Back
He stole from the rich, gave to the poor and desperately needs the help of Tom and Jerry! Now the famous outlaw Robin Hood has been captured by the evil Sheriff of Nottingham, and Robin Hood's true love, the fair maiden Maid Marian, faces grave danger at the hands of greedy Prince John. Can sworn adversaries Tom and Jerry set aside their differences long enough to save the day? With high-flying action, daredevil stunts and rollicking songs, your favorite cartoon Cat-at-Arms Thomas and Merry Mouse Jerry take furry aim at the beloved medieval tale in a new, full-length original movie. It's all for one and fun for all in Sherwood Forest's most madcap swashbuckling adventure ever!
Special Features:
Medieval Menace
The Two Mouseketeers
Robin Hoodwinked
** I received a copy of Tom and Jerry Robin Hood and his Merry Mouse for the purpose of this review. However, my own opinion was used and may vary from others.