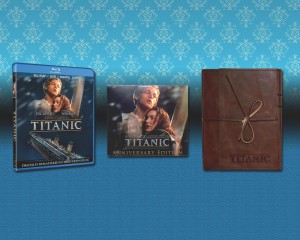 My Thoughts on Titanic
I remember when Titanic first hit the theaters. I was excited to go see Leonardo DiCaprio hit the big screen in this amazing love story. It was one of the best movies I had ever seen and the way they captivated the love story as well as telling the story about that disasters night the Titanic sunk made it one of the best record breaking movies of all time.
It had been a very long time since I had seen Titanic and I was thrilled to learn that they had it available on Blu-Ray and was digitally remastered in high definition!
Watch as the love story between Kate Winslet and Leonardo DiCaprio unfolds in the tragic tale of love and loss.
There are over 6 hours of special features included on 4 disc's. Watch the magic unfold and learn the behind the scenes events that occurred on the set!
On the Back
"Experience one of the greatest films like you've never seen it before." – Fox TV
Experience Academy Award – winning* director James Cameron's epic masterpiece Titanic like never before. Leonardo DiCaprio and Kate Winslet shine in this unforgettable love story born of tragedy that became a worldwide phenomenon. Take the journey and discover why critics declare Titanic "a magnificent motion picture that remains spellbinding."**
 ** I was sent a copy of this title for the purpose of this review. However, my own opinion was used and not influenced in any way!