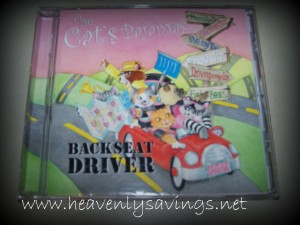 The Cat's Pajamas
Backseat Driver
My thoughts on the The Cat's Pajamas, Backseat Driver –
Now here is a cd that will make people stare at you while you are sitting at a red light. But you know what?! Who cares because you will have kids in the backseat who will be dancing in their seat right along with you!
This is an upbeat style cd that has hints of a jazz feeling. Do we say "groovy?" yes, yes we do. It is just that and it is something I haven't heard in a children's cd before. A new way to sing and dance with your kids, just keep at least one hand on the wheel please!
We live in a big city and were headed to a festival and anywhere we go we have to plan at least 30-45 minutes depending on traffic so we were happy that this cd lasted the whole way!
The sound quality wasn't quite like we had hoped for compared to other cd's in our car so we just needed to adjust our stereo some, but once we figured that out we could hear the voices better.
One of the great things about this cd is that is comes with the foldout paper inside with ALL of the lyrics. I absolutely love that! I always love to read the lyrics when the song is being played, I guess it makes the song and words soak in better. The only issue I had, was that my 7-year-old son wanted to look at the lyrics and read them too!
There are photos of the band and it was great to see what they looked like so we could put a face to the voices we were hearing. There are some extremely positive and educational songs on this cd and one of our favorites is the song "Building A Better World". There are 11 songs on this cd. Go online and check out their website and see for yourself how fun and energetic this band is!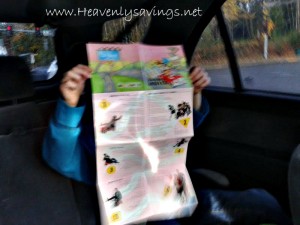 ~Tammy~
** I was sent a copy of this product for the purpose of this review. However, my own opinion was used and not influenced in any way.