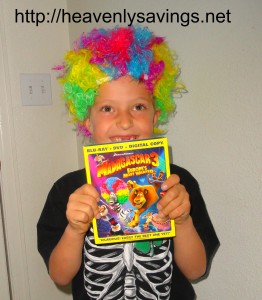 My Thoughts on Madagascar 3 Europe's Most Wanted
Have you seen Madagascar 3 Europe's Most Wanted yet? It is one of my favorite kids movies of the year! It is also the first movie my daughter ever watched in a Drive In Theater 🙂
Recently I was sent a copy of Madagascar 3 Europe's Most Wanted for the purpose of this review. I was so excited for this DVD to arrive not only because of the great movie but also the fun Marty's Rainbow Wig that is included! We most of you know that is one of the most fun and memorable parts of the entire movie!
In Madagascar 3 Europes Most Wanted the Zoo Crew are still trying to make it home. This time pairing up with a Circus to try to get there. Of course it is not going to be easy…especially with Animal Control on their heels. Will Marty and the gang be able to finally make it back to the Zoo they miss so much? Or will they be caught by animal control before they can get there? You will have to watch and see!
On the Back
Your favorite characters are back, in their most hilarious adventure yet! Alex, Marty, Melman and Gloria find themselves on-the-run through Europe in this wildly entertaining and outrageous comedic adventure that film critics are calling "charming and very funny!"
(Bill Zwecker, Chicago Sun-Times). With the fame-loving King Julien and the take-charge Penguins along for the ride, the whole crew joins the circus to escape Captain Dubois of Animal Control. Full of high-flying action and colorful new characters, it's a MAD extravaganza everyone will love.
Madagascar 3 Europe's Most Wanted was released on DVD on October 16th and can be purchased at a retailer near you!
**I was sent a copy of Madagascar 3 for the purpose of this review. However, my own opinion was used and may vary from others.