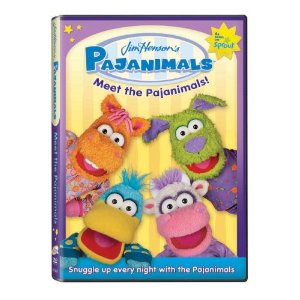 My Thoughts on Jim Henson's Pajanimals – Meet the Pajanimals!
I can not believe Fall is already here! Where did the time go? School is in full swing this time of year and you might be having a hard time getting your little one back into their routine of brushing their teeth and going to bed on time.
Jim Henson and Sprout knows how hard this can be and together they bring you The Jim Henson Company's Pajanimals.
I had never before seen Pajanimals although I am lucky enough to get the Sprout channel. With all these kids in the house I am not sure how we had been missing this super cute cartoon and I am happy to have another family friendly cartoon to watch with the young ones.
I received a copy of The Pajanimals – Meet the Pajanimals DVD for the purpose of this review. In this DVD you will find four amazing friends; CowBella, Apollo, Sweetpea Sue and Squacky! Every night they sing songs together and laugh as they go through their bed time routine. 
Still can't get enough of the Pajanimals? Check out their "Light in the Sky" app now available from the App Store for all iPhone, iPad and iPod touch's. The App can be purchased for just $4.99 and is 3-D to bring more interaction and fun to your children!
On The Back
Meet the Pajanimals
Introducing CowBella, Apollo, Sweetpea Sue, and Squacky-four friends who snuggle together every night and sing sweet night time songs to their preschool friends at home. Through their imaginary journeys, these cuddly friends discover fun ways to transition from playtime to bedtime.
Join the Pajanimals for a magical adventure that encourages a nightly routine!