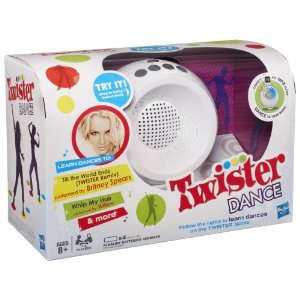 My Thoughts on Twister Dance by Hasbro
I love anything that includes Dance in the title! That is why I knew that Twister Dance would be a huge hit at my house.
In this new version of Twister you will have fun with your friends learning new dance steps to tunes you know and love. Twister Dance can be played with one or two players and comes with four dots that you place on the floor. Turn on the music and watch the lights. As they light up you step on the same color spot! It's that simple..but fun! Twister Dance is included with lots of great music and can be connected to your MP3 player. You can then program your own dance steps for your friends to learn and dance along with!
Not in the mood to play the game? The Twister Dance Speaker can be hooked up to your MP3 Player just to listen to music! It is great to take around the house with me each morning as I do my morning house cleaning!
Twister Dance takes 4 AA Batteries and can be found at a toy retailer near you!
On the Box
Rock the Spots: Follow the lights to learn dances on the Twister Spots
Learn Dances To: Till the World Ends (Twister Remix) performed by Britney Spears, Whip My Hair performed by Willow, We R Who We R performed by Ke$ha, Cupid Shuffle performed by Cupid & Caught Up in a Twister (Exclusive Song)
Game Contents:
8 Moveable Spots, Dance Console, Music Player, Connector Cord, Instructions.
**I received a Twister Dance for the purpose of this review. However my own opinion was used and may vary from others.