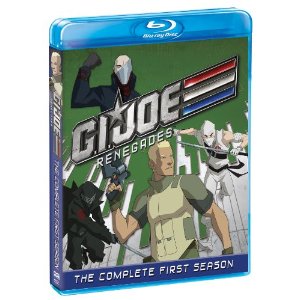 My Thoughts on GI Joe Renegades – The Complete First Season
I remember as a child my little brothers would watch GI Joe every day after school. This would lead to hours of 'battles' between my brothers as they would run around the living room, up over the furniture, and bouncing off the beds in my house.
These are the wonderful memories I have of my childhood and I am happy that now I get to see the kids in my home making these same memories.
Recently I was able to review GI Joe Renegades The Complete First Season on Blu-Ray. I was excited to watch this movie with my youngest brother who is now 6 and talk with him about how our other brothers were when they watched this as children. He loves knowing that just even though he is 6 he still has something in common with our brothers who are in their twenties.
On the Back
When a spy mission against Cobra Industries goes awry, a young G.I. JOE team is forced to hit the road as fugitives. Now the goup members – Duke, Scarlett, Roadblock, Tunnel Rat, Ripcord and Snake Eyes – must use their wits and elite training to prove their innocence to the world before being caught by the authorities, Cobra or another elite military team called the Falcons.
When exciting, action-packed storytelling, spectacular animation and incredible voice talent – including appearances by Clancy Brown (Carnivale), Micheal Emerson (Lost), Phil LaMarr (MADtv), Peter MacNicol (Ghostbusters II) and Lee Majors (The Six Million Dollar Man) – G.I. JOE Renegades is guaranteed to keep you on the edge of your seat!
Bonus Features:
A Look Behind the Scenes at G.I. JOE Renegades
Commentaries
** I received a copy of this title for the purpose of this review. However, My own opinion was used and not influenced in any way.