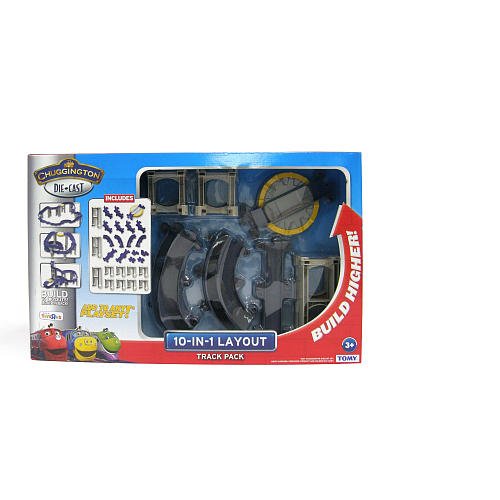 Chuggington is a huge hit at my house. New and just in time for the holiday season is the Chuggington Die Cast 10-in-1 Layout!  With the Chuggington Die Cast 10-in-1 Layout you can build 10 different track layouts for your Chuggington engines to travel. Stack them high or keep them low..it's up to you! Plus All Chuggington Die Cast TOMY sets are interchangeable. You can build the tracks as big or as small as you like!
I received a Chuggington Die Cast 10-in-1 Layout for the purpose of this review. When it arrived I had my 6 year old little brother at my house. He was the perfect kiddo to build away and test out all 10 tracks! He was entertained for hours as he built, played, rebuilt, and played again!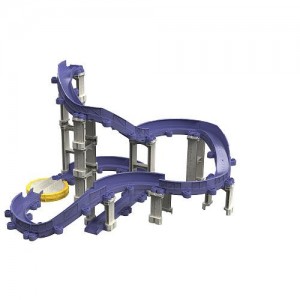 Train sets are always a great purchase for kids. It is fun to set them up and run the trains around the track. I found the Chuggington Die Cast set to be very easy to use and my brother had all 10 different tracks built all by himself with no issues! The TOMY Die Cast set is intended for ages 3+ and retails for $39.99. The 10-in-1 Layout pack contains instructions for 10 different layouts (plus you can create your own) and can be built up to 4 stories high! Now that is awesome! This set also contains 28 pieces including a turn table!!
You can also purchase a variety of engines to go along with your train set. My little brother was impressed to find Koko and Dunbar with this train set! Other engines include Wilson, Brewster, Old Puffer Pete, Zephine, Irving, Mtambo, Harrison, Chatsworth, Action Chugger, Frostini, Calley & Boxcar, Hodge & Hopper Car and Emery!
I was very impressed with this Chuggington Die Cast set made by TOMY. The quality is outstanding and I know this is a toy that the kids can play with for a long time to come. I love that it gets their imagination going and they can assemble an endless number or tracks however they like!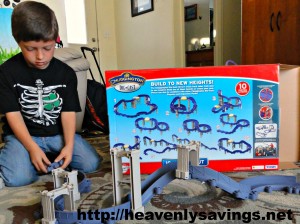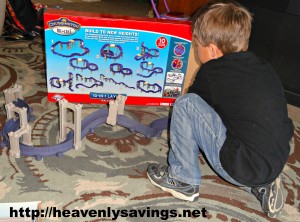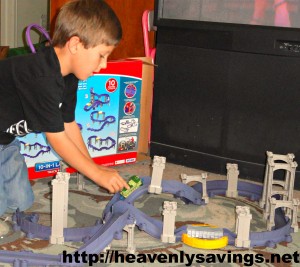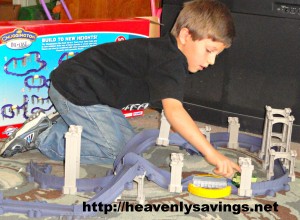 How would YOU like to WIN this awesome Chuggington 10-in-1 Die Cast Layout? I am happy to say that 1 lucky US reader will do just that! Wait for the Rafflecopter to load and remember to come back each day and enter! Good Luck!