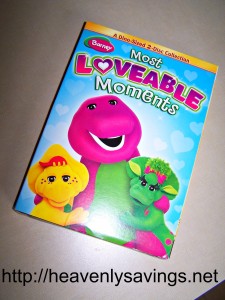 My thoughts on Barney: Most Loveable Moments
Who doesn't love to teach their kids about manners, feelings, numbers, letters & good morals in a fun and energetic way?! Barney is one to help encourage your kiddos with all of that through song and creative play.
My kids love to play dress up almost every day and in Barney: Most Loveable Moments, they can watch 10 of Barney's most loveable episodes that include dress up and imaginative play .I love that they have combined all the greatest lovable moments into one dvd.
Learning about the days of the week hasn't ever been more fun than it is with Barney's song. I do admit that I limit the television time my kids have and we do not have cable tv so having a 2 disc dvd full of songs and appropriate entertainment is really convenient.
Barney has been around for years and you know this dvd is safe and fun to watch because his reputation precedes him. The bonus about all of this is that it is a 2 disc dvd set. The special features on the 2nd disc has a song that my son loves to hop up and sing to which is "If you're Happy and You Know It". He may think he is now too "big" for Barney but when it is playing he is the first to sing and dance!
There are also other fun things to do on the 2nd dvd that with your involvement is a great way to bond with your child. There are games on this bonus feature dvd that is fun to interact with the characters of this show, including my son's favorite character, BJ who is Baby Bop's big brother.
This dvd is a great choice in entertainment for kids and even though the age suggestion is 1-5, my 7 year old son will still sing and dance to Barney today.
Barney ; Most Loveable Moments
Available on DVD, Digital Download and on Demand as of Sept.18, 2012
From Lionsgate Home Entertainment and HIT Entertainment
 ~TAMMY~