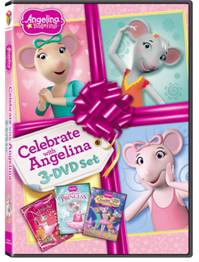 My Thoughts on Celebrate with Angelina
Angelina Ballerina is one of my favorite cartoons to watch with my daughter. When I was younger I wanted to be a ballerina so I really can relate to Angelina as she makes her dreams of dancing come true.
This holiday season I am happy to have the Celebrate with Angelina 3-DVD set! There are three great Cartoon's that are perfect for Christmas including The Nutcracker Sweet, Ballerina Princess and The Shining Star Trophy. You and your child will laugh and dance along with Angelina in every Christmas filled episode!
On the Back
The Nutcracker Sweet
Walt into a land of sugar and spice with Angelina as she prepares to preform the Dance of the Sugar Plum Fairy in the holiday showcase. But when too many candy canes and a fruitcake give her a tummy ache, she learns that sharing with friends is a lot more rewarding.
Bonus Features: Prima Ballerina Puzzles, Front Row Seats Karaoke Vidoe
Ballerina Princess
Join Angelina Ballerina and her friends for enchanting adventures filled with princesses, princes, kings and queens. Angelina encounters an evil witch, uncovers a Cinderella-like mystery and brings an epic tale to life with her friends!
Bonus Features:
Angelina's Stupendous Dress-Up Game!
The Shining Star Trophy
Ms. Mimi announces that there's going to be a talent show at Camembert Academy. When the curtain rises, who will take center stage and win the Shining Star Trophy?
Bonus Feature: Talent Show Trivia Game
 ** I received a copy of Angelina Ballerina 3-Disc Set for the purpose of this review. However, my own opinion was used and may vary from others.