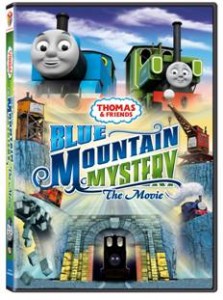 Thomas & Friends Blue Mountain Mystery
You all know just how much I love Thomas movies. Recently I was able to review one of my favorite Thomas & Friends Movies I have ever seen! Thomas & Friends Blue Mountain Mystery is a great movie about Blue Mountain Quarry.
Travel with Thomas as he has a mystery to solve and along the way he will even meet new friends Owen, Merrick, Luck & Winston! Bonus Features in this movie also include:
-Blue Mountain Hide & Peep Game, Learn About Standard & Narrow Gauge Engines, Blue Mountain Mystery Karaoke Music Video, and Working Together Karaoke Music Video.
On the Back
When trouble strikes at the Blue Mountain Quarry, Thomas is sent to help this Narrow Gauge engine friends. While shunting and hauling, he discovers a little green engine hiding in the tunnels. Thomas is determined to get to the bottom of the mystery but discovering the truth is harder than he imagined! Will Thomas be able to help his new friend? Or will the little engine be sent away from Sodor forever? Find out in Thomas' most mysterious adventure yet, a movie the whole family will love!
Would you like to win Thomas & Friends Blue Mountain Mystery?