**Giveaway Open to All North American Residents!!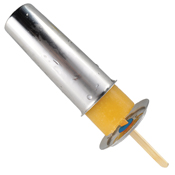 My Thoughts on Life Without Plastic
We have all heard the stories about Plastic, BPA, and the effects it could have on our body. We have also heard the stories about what Plastic can do to the environment when thrown away and not recycled. With all that in mind do you think it is possible to cut plastic out of your life? Plastic is an everyday thing and most every day items are made with plastic. Life Without Plastic would like to help you make the change to a healthier lifestyle that will not only help you but the environment as well. Recently I was able to review Life Without Plastic's FreezyCup! I love making Popsicle treats at home for the kids. I love knowing what is put into each popcicle and saving money by not having to purchase them at the store! The FreezyCup is easy to use and fits nicely into my freezers as I don't have to worry about finding room for a whole tray that I am worried will tip over and spill all over inside the freezer. The FreezyCup makes just one perfect sized frozen treat. The mold is stainless steel and is CPSIA compliant. Each of them is also tested and is lead and PBA free! The molds are also 100% Recyclable and have a 1 year warranty! My FreezyCup arrived and contained reusable bamboo sticks as well as silicone gaskets to help make my frozen juice perfect! I also love that the Freezy Cup is dishwasher safe! You will have fun freezing your juice and/or yogurt in these great FreezyCups!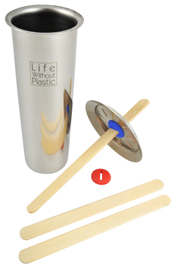 Life Without Plastic sells lots of other great items as well! I love the look of their food storage containers as well as their wooden toys for kids! Other categories on their site include Bags, Child and Baby Products, Home and Body Care, Living Water, Tableware, Water Storage, Kitchen, Glassware and so many more! a Rafflecopter giveaway