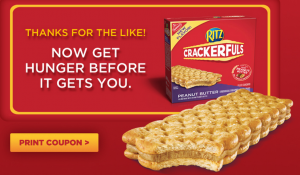 I have not yet tried Ritz Crackerfuls but now is my chance! Currently you can stop by and 'Like' them on facebook to get a coupon good for $1/2 Ritz Crackerfuls Coupon!
This Ritz Crackerfuls Coupon will work great at Dollar Tree to score each box for just $0.50 each!!
Don't forget to fan Heavenly Savings on Facebook so you won't eve miss a deal? Don't have time for facebook? Get our daily email sent right to your inbox!
Thanks Fun2BFrugal!