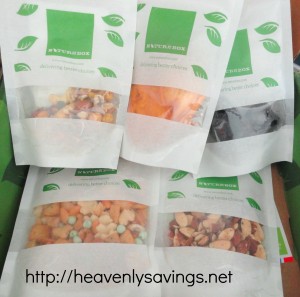 My Thoughts on NatureBox
I have been trying to focus more on the foods I am putting into my body as well as feeding to my family. We have each decided we need to live a healthier lifestyle and I must say that there have been some huge changes in our daily lives but things are going really good!
Recently I was able to review a wonderful box from NatureBox. I know that some of you might have heard of this company before but some of you might be thinking…what is NatureBox? Well I'm happy to tell you about this wonderful company!
NatureBox is a company that will send you a variety of healthy foods shipped right to your door each month. Foods include Dried Fruits, Nuts, and healthy trail mixes! Each box cost's just $19.95 a month you can get 4-6 full size packages of all-natural snack foods!
I was lucky enough to get the August NatureBox in the mail for the purpose of this review. In my August NatureBox I received 5 full size bags of great snacks including: Dried Fancy Figs, Mexicana Mango, Bombay Curried Cashews, Far East Rice Crackers, and Maui Onion Crunch!
I loved the variety of flavors in each of the bags. The mixes were wonderfully tasty and adding exotic flavors like Curry and Maui Onion were a wonderful addition. I loved the great flavor of the dried Mango's and Figs and LOVED the Maui Onion Almonds! They were AMAZING! The Bombay Curried Cashews had a great flavor and I loved the walnuts, almonds, raisins and cranberries they had mixed in with the cashews! The Far East Rice Crackers were my second fav. I must say that the crackers had the perfect amount of flavor and I could not put down this bag!
Another thing I love about NatureBox besides the great taste and great price is that all the boxes will ship free. You can cancel anytime and I am happy to say that for this month I have a great coupon code "MANGO" which can be used to score 25% off your first NatureBox!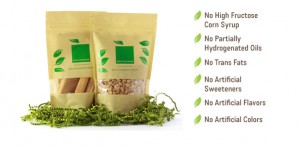 ** I was sent an August NatureBox for the purpose of this review! However, all thoughts and opinions used were my own and may vary from others.