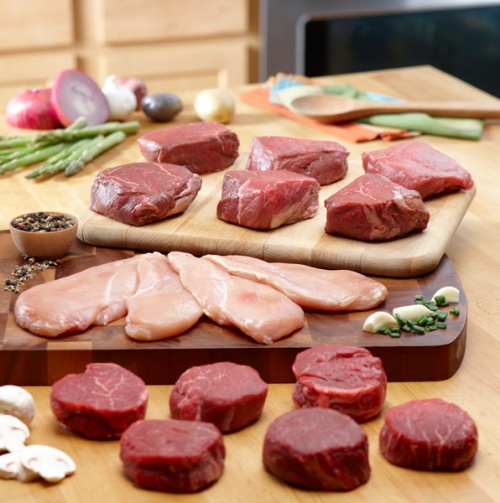 Totsy has a *HOT* Deal right now on meat from MeatHub.com! Right now for just $69 you will get $179 worth of meat in MeatHub.com's Tailgate party! So what does that include:
The Grilling Sensation Tailgate Party includes: (8) 5 oz. Top Sirloin Steaks, (4) 5 oz. Chicken Breasts, (8) Quarter-pound Gourmet Burgers, (12) Bratwurst Sausages, (6) Polish Sausages, (1) One-pound Barbecue Pulled Pork
For more information on the Tailgate Party, visit MeatHub's website at www.meathub.com/tailgate-party-p/100187.html
Each package will come vacuum sealed and on Dry Ice.
From the site:
Offer Details:
Voucher must be redeemed online by March 13, 2013.
Valid for new and existing customers.
Unlimited vouchers per person; vouchers can be gifted.
Cannot be combined with any other discounts or promotional offers.
Voucher must be redeemed in one (1) transaction.
Shipping is not included and costs $9.95.
Totsy vouchers are final sale and nonrefundable.
How to Redeem:
To redeem, go to www.meathub.com/tailgate-party-p/100187.htm.
Press the 'Add To Cart' button.
Enter your Totsy voucher code in the field that reads 'Coupon Code? Enter it here' and press Apply.
Press the 'Proceed to Checkout' button.
Enter your billing and shipping information and finalize the order.
For customer support inquiries, e-mailsupport@foodhubinc.com or call toll free at 877-336-9482.