Yippee! Another great and amazing coupon! Coupons.com has a $1/1 Tyson Ground Chicken coupon at zip 84015! This will make for a great deal at Walmart as they have their Tyson Ground Chicken on Rollback for just $2!
*Remember to change zip codes you will need to click on the 'Local Coupons' tab and enter in 84015. Then switch back to the 'Coupons' tab to see those coupons for that zip.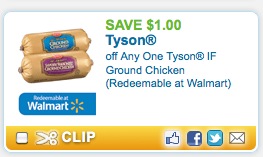 Purchase Tyson Ground Chicken $2 Use
$1/1 Printable Coupon HERE
Final Cost: $1 each  
*Please know the deal will not work at all locations. Walmart every day price for Tyson Ground Chicken is $2.58 so $1.58 after coupon which is still a pretty good deal!
Thanks The Thrifty Couple!