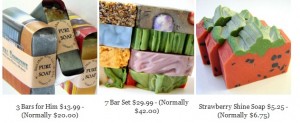 I just think Belle Chic Boutique has some of the cutest soaps available.  Remember  last month when they had the soaps that looked like gummy bears and I swear I could have eaten them!  Starting today Belle Chic is bringing you Soap for your Soul.
Soap made in small batches, using the finest extra virgin olive oil, natural colorants, and more yummy stuff!
Soap for your Soul is a treat for your body, mind, and soul.
These luxurious soaps are made from scratch using the highest quality vegan ingredients.
These Artisan bars are then ramped up with delicious scent blends, and beautiful colors & designs you have to see to believe!