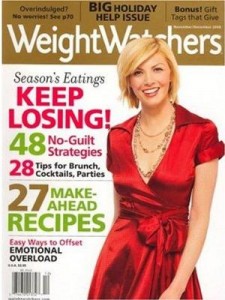 Tanga is offering a one year subscription to Weight Watchers Magazine for only $4.50 a year.  This is a huge savings from the $26.99 cover price you would pay.  Weight Watchers magazine is not only for those involved in Weight Watchers.  It's filled with tips and tricks to help you start or continue your weight loss journey.  Plus recipes that will help cut the fat content from "the original".  The success stories are powerful and are a huge inspiration to continue when your want to take a break.
This is the perfect time for a new subscription or you can renew your subscription and it will be added to the tail end of your current subscription.
Enter the Weight Watchers coupon code WEIGHT at checkout to receive your discount.