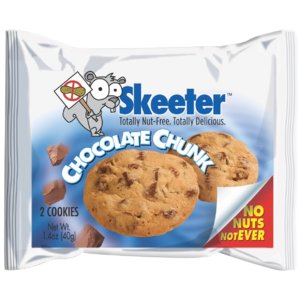 My Thoughts in Skeeter Snacks
Having a family member with nut allergies can be difficult. There are lots of popular brands that are made in a factory where nuts can be found.
Skeeter knows just how difficult it can be to find treats the kids love without nuts! That is why they have NO NUTS EVER!
Skeeter makes a variety of great cookies like Chocolate Chunk, Golden Oatmeal and Skeeter Doodle! I was sent all three for the purpose of this review and I must say I was excited to try these Nut Free Cookies!
I must say these cookie's were delicious! I did not want to share with my family at all…but I did anyway :). The night they arrived we broke out the milk and sat down to review these wonderful flavors. My hubby's favorite was the oatmeal. He loved how every single bite had raisins in it. I also enjoyed the Oatmeal cookies. He was correct on every bite having raisins in it and I really loved the overall flavor of the oatmeal as well. I am not usually a fan of oatmeal cookies but these ones were really good!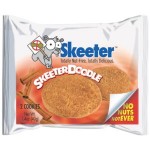 My daughter loved the Skeeter Doodle cookies the best! She loved the cinnamon sprinkled on top of the cookies as well as the texture. She does not like to have anything besides the soft dough in her cookies so these sugar cookies with cinnamon were perfect!
My favorite was of course the Chocolate Chunk! These cookies were LOADED with chocolate! They were heavenly in milk and oh so good!
Okay so lets be honest….why Skeeter Snacks above any other brand. I mean we all know we can get good cookies from lots of different places. BUT are they cookies that contain NO NUTS ever? This is so important to me because there are more and more children being born with nut allergies. I love that I can serve Skeeter Snacks to my daughters friends when they come over or send them in her school lunch and not have to worry that there might be nuts that can affect another child.
Children with Nut allergies deserve to eat great food as well as the ones without. Skeeter Snacks is making that possible! Thank you Skeeter Snacks for making Nut Free Cookies in a Nut Free Factory!