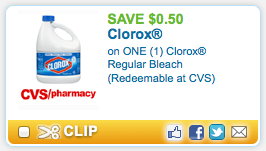 As I was looking through zip codes today I came across this awesome $0.50/1 Clorox coupon! This is a manufacture coupon and can be used at any store! You will need zip code 33025 to score this coupon!
If you are having trouble changing zip codes you will need to click on the 'Local Coupons' tab and enter zip 33025 then click the 'coupons' tab again. It is listed under household!
Also there is no size restrictions so this should make for some really great deals on smaller bottles!