My Thoughts on New York Style
I love snack foods! Especially salty over sweets. Recently I was sent a package from New York Style that was filled with the most perfect snack foods ever! Bagel Snacks!
The New York Style Bagel Snacks can be purchased in a variety of different flavors and sizes. You can purchase the Mini Bagels or the Original Bagel Crisps. Flavors include Roasted Garlic, Cheddar, BBQ, and Sea Salt!
I love the crispness of the bagels. They are delicious and great for snacking or even adding to salads!
Roasted Garlic – If you are a reader of my blog you probably know that I love anything with garlic. I knew that Roasted Garlic flavored bagels would be a home run and I was correct. There was a perfect amount of garlic on each bagel crisp! Yum!
BBQ- This flavor was my favorite out of all of them which surprised me. I love the bold BBQ flavor and ate up this bag very quickly!
Cheddar- Each delicious bite was COVERED in cheddar! YUM!
Sea Salt – I loved getting my salt fix in a healthier way. What I mean by that is I was getting the salt I crave on a daily basis but the sodium was much less (280mg) then I was eating in my other salty snacks. I really like the sea salt flavor and even added them (instead of croutons) to my salads at lunch!
I was very impressed with the quality and flavor of New York Style Bagel Crisps. I had never tried them before but I know that now they will be a welcomed addition to my grocery bill! My whole family loved them!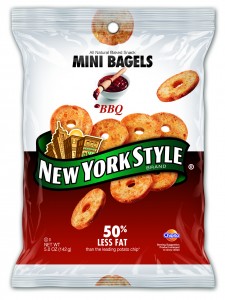 Want in on some more New York Style fun? They currently have a great sweepstakes going one! New York Style and Stacy Keibler have joined forces to revile the hottest summer styles! Together they have come up with New York Style Bagel Snack Star Sweepstakes!
There will be one grand prize winner who will get to partake in a celebrity experience and attend a movie premiere! As the winner you will get to take your entourage and enjoy everything that goes along with a red carpet experience! Enter at Facebook.com/NewYorkStyleSnack and good luck to all of you!
"New York Style Mini Bagel Crisps are my go to snack whether I'm watching a movie, having guests over, or just need a quick bite on the run. They are a sensible option that has 50 percent less fat and 18 percent fewer calories." – Stacy Keibler