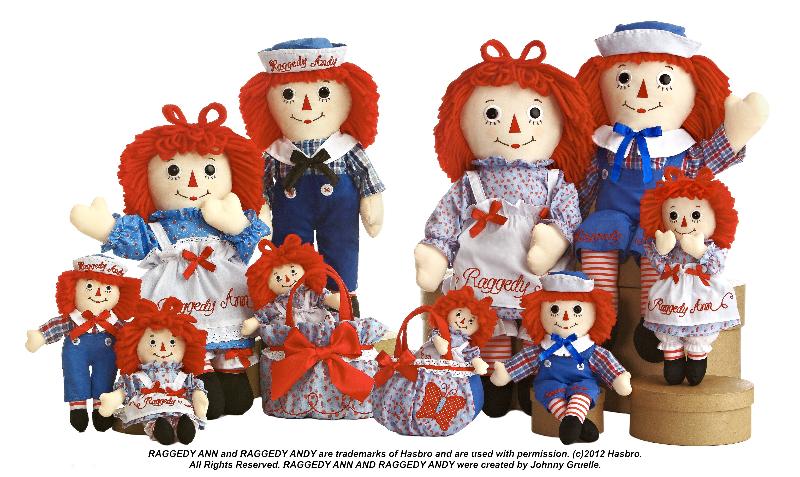 My Thoughts on Raggedy Ann
OH MY! I was SO EXCITED when I seen that the ORIGINAL Raggedy Ann Doll and Andy doll was going to be released again from Aurora and Hasbro! When I was a little girl Raggedy Ann was my ALL TIME Favorite! The cartoon was not on T.V. any more except on a very rare occasion but when it did come on I was glued to the T.V. with my precious Raggedy Ann and Andy Doll's in hand!
I love making memories with my daughter especially when they are memories that I remember making with my own Mom when I was a young girl. Raggedy Ann and Andy hold such a special part of my heart and for the first time ever I was able to share those beautiful memories with my little girl! I even found some of the old cartoons to watch with her while she held on to her new Raggedy Ann doll just as I did as a child.
Thanks to Aurora World Inc. you can now purchase a Raggedy Ann Doll and Raggedy Andy doll from a new line of dolls.
Raggedy Ann and Andy Fancy Pals line includes Raggedy Ann Butterfly or Red Ribbon Style dolls that even include the yarn hair that I remember so vividly from my childhood. Sizes of the new line of dolls include 8″, 12″, 16″ and 25″ dolls priced between $10 and $35! There is also Raggedy Ann and Raggedy Andy Fancy Pals dolls at 7″ and around $17 each! Aurora World will also be releasing holiday styles in Raggedy Ann "Chilly Chic" and "Santa's Helper" along with Raggedy Andy "Chilly Chic" and "Santa" in 16″ dolls priced around $27!
Raggedy Ann and Raggedy Andy dolls are made for ages 18 months+ and can be found at www.auroragift.com!
Plus score FREE Shipping on orders over $50 until August 31st, 2012. Use promo code: YooHoo12