My Thoughts on Little Patootique
One of my most favorite things about having a little girl is being able to dress her up. This includes doing her hair in beautiful curls with fun hair clips.
Recently I was sent some adorably made Little Patootique hair accessories for the purpose of this review. I could not wait for the cute clips and hair ties to arrive so I could style my daughters hair!
Many of Little Patootique's hair accessories are made to look like creative items such as Lolipoops, Minnie Mouse as well as many other cute creations. I love the creativity that goes into each accessory sold at Little Patootique! Not to mention the fun patterns of material such as polka dots and stripes!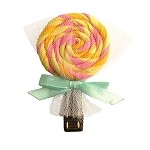 Each Little Patootique hair accessory is packaged in it's own little individual package and the quality is outstanding. To be honest if you have read my reviews in the past you know that I have had hair accessories in the past that have fallen apart before my daughter could even wear them for a full day! That is NOT the case with Little Patootique! Each Little Patootique hair accessory is glued together firmly. I also love that I can not see the globs of glue holding it together as they are made very professionally. The accessories are also made with soft fabrics and details that will not hurt your childs little head as they accessories are placed!
If you are on the lookout for fun hair accessories for your little one that are made with high quality and fun decorations and patterns then I recommend you look into Little Patootique! They have affordable prices and lots of great hair accessories to choose from! Happy Shopping!