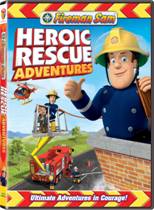 My Thoughts on Fireman Sam Heroic Rescue Adventures
Fireman Sam is a great cartoon that brings children into the action and adventure of firemen. During Fireman Sam Heroic Rescue Adventures you will watch 6 great rescue episodes including: Towering Inferno, Seeing Red, Pontypandy Extreme, Elvis Sings the Blues, Fireworks for Mandy and Double Trouble.
In each adventure your kids will learn about the life and work of these every day heroes all through the eyes of a beloved character named Sam. These firemen will not only put out flames but also rescue other great characters from dangerous situations!
On the Back
Heroes Going Above and Beyond!
Fireman Sam and his fearless crew are reporting for duty! The courageous team of heroes next door shows their cool demeanor in a variety of hot situations! Whether it's Norman stuck in a fiery tower or deep in a wishing well, Mike or Penny dangling in a perilous situation, or Sarah stranded on the cliffs. Fireman Sam is ready to rescue! Join the squad and get ready to race, run, jump, climb and rappel to save the day!