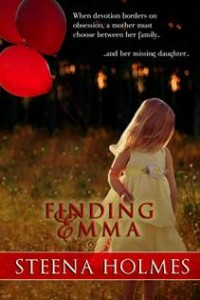 My Thoughts on Finding Emma 
I can not imagine the feelings that would come with the loss of a child. It is one of my greatest fears ever as I am sure it is for most parents.
In the book Finding Emma by Steena Holmes you will meet a family who has lost their beautiful daughter. After years Emma's Mom can not fathom giving up the search. Looking for her daughter in the faces of every blonde hair little girl she sees is starting to take it's tole on her family. She is clinging too tightly to the daughters she still has and is not allowing them their freedom. Not to mention the effect it is having on her husband and marriage each time she comes home and tells her husband she 'thinks' she saw their daughter when they both know it is not really true.
In this book Megan (the mother) does everything that I think I would do as a Mother. It is heart breaking to read her story as she is desperately searching for the little girl she loves and lost.
In this beautiful book you will also get to read about Emma who is now called by a different name. Is she healthy and happy in her new life? Why was she taken away from her Mother? Will she ever be reunited with the family who loves her so much?  You will have to read Finding Emma to find out how this story ends!
I found this book to be amazing. Not only did this book pull at my heart strings but it was written in a way that captivated my heart! It really is a great read!
Need another good reason to purchase this book? Portions of the proceeds will be donated to Missing Children Society of Canada!
On the Back
Megan sees her daughter Emma everywhere. She's the little girl standing in the supermarket, the child waiting for the swings at the playground, the girl with ice cream dripping down her face. But it's never Emma.
Emma's been missing for two years.
Unable to handle the constant heartache of all the false sightings, Megan's husband threatens to walk away unless Megan can agree to accept Emma is gone. Megan's life and marriage is crumbling all around her and she realizes she may have to do the thing she dreads most: move on.
When Megan takes a photo of a little girl with an elderly couple at the town fair, she believes it to be her missing daughter. Unable to let go, she sets in motion a sequence of events that could destroy both families lives.
Want to learn more about the author?   Twitter: @steenaholmes Facebook: 
http://www.facebook.com/SteenaHolmes.Author
Email: 
steena@steenaholmes.com
Website: 
www.steenaholmes.com
Pinterest: 
http://pinterest.com/steenah
  * I was provided with a copy of this title for the purpose of my review. However, all thoughts and opinions are my own and were not influenced in any way.