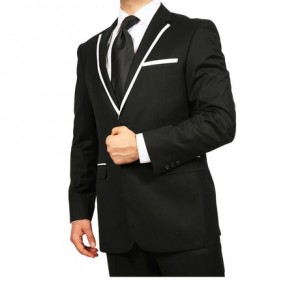 NoMoreRack has AMAZING deals on Mens suits. Currently you can score mens suits at 90% off retail! For example this Men's Black and White Suit pictured above is only $75! Yes you read that right!! Just $75.00 (Reg. $599.99)
Visit the link to save up to 90% off Men's Suits with NoMoreRacks Men's Suit Sale!
**My experience with NoMoreRack. I know that some of you are nervous to purchase from NoMoreRack. All I can tell you is the experience that I have had with them. In November of 2011 I made my first purchase of a Nintendo DS accessory. In January it still had not arrived and so I sent an email to customer service. Within 24 hours they had refunded my money. I decided that since they had great customer service I would try again. The second purchase I had with them was a Kindle Fire. It arrived within two weeks. The next purchase was a necklace for my Mom for Mothers Day and again it arrived within two weeks.
Since then I have been making regular purchases with NoMoreRack. I have not had any problems with them ever again and all my items have arrived quickly with no issues.