Gardening is a huge passion of mine. I grew up with avid gardeners in my family and I feel like gardening is in my blood. Let's face it…there is nothing better then garden fresh produce or fresh bouquets for your house! Every year as garden season approaches I try to find new flowers to add to my garden. There are so many amazing flowers in this world and every year I find new ones I had never seen or heard of before! I also love seeing what beautiful flower combinations I can grow outside.
Hayes Garden World is a great place to purchase flowers and planets for your garden but, more then that they also have all of your outdoor needs. You can find BBQ's, Garden Furniture and Garden Benches, Chairs, Tables, Cushions, Storage, Bird Feeders and Houses, Garden Accessories and Garden Care Items. I especially liked looking through the beautiful outdoor clocks. I have never thought about putting one outside but now that I have seen them I know just the perfect spot to put one!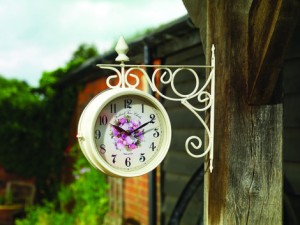 If gardening is not your thing you can also find lots of Household items at Hayes Garden World. Indoor Kitchen, Furniture and wall art can be found through out the site as well as items for your pets!
Are you a gardener? If so what is your favorite thing about your yard outside? Recently have been purchasing lots of fun garden gnomes and other out door decorations. I think it has to do with Disney's Gnomeo and Juliet! Super cute flick and really made me want to fill my yard with Gnomes 😉