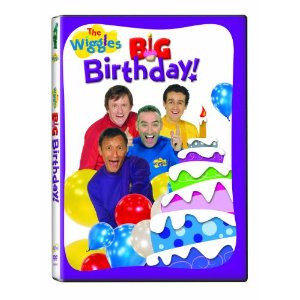 My Thoughts on The Wiggles Big Birthday
My daughter was a Wiggles fanatic when she was a toddler. It was her favorite show and I will say we owned the CD's to listen to in the car as well. I can not count the number of times I sang some of their most popular songs!
Recently I was sent The Wiggles Big Birthday on DVD for the purpose of this review. I have so many kiddo's in my home and I knew that the four year old would be thrilled to help me review this DVD. In The Wiggles Big Birthday you will see Murray, Jeff, Sam and Anthony dancing around on stage and singing your favorite tunes including Hot Potato, Fruit Salad, Wake Up Jeff and others. You will also get to see other characters like Captain Fethersword, Dorothy and Wags! You will love helping The Wiggles celebrate a Big Birthday!
Now for the sad part….This is the DVD was filmed during their live tour. This is the LAST tour before the Wiggles retire! I know all good things must come to an end but it will be sad to see them go…You can watch to learn more about their retirement on the video below!
On the Back
Let's All Celebrate The Wiggles Big Birthday!
Join Murray, Jeff, Anthony and Sam for a Wiggly Party. We've invited some of our favorite friends, Captain Fethersword, Dorothy, Wags and Henry, to help celebrate. Dance along to your favorite Wiggles songs live in concert. There are so many birthday surprises, jokes and songs for more wiggly, giggly fun. Hip, hip hooray. It's time for The Wiggles' Big Birthday!