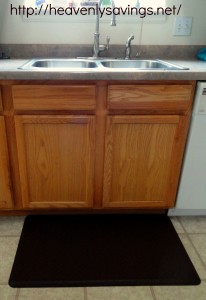 My Thoughts on GelPro
Every day I spend at least one hour washing dishes in my kitchen. If you have been a reader of my blog for awhile then you probably know that I dislike dishwashers and I have one but it is used for storage and is not even hooked up to the water.
The only downfall to my washing dishes by hand each day is the pain that I got in my lower back and feet while I was standing there. I honestly thought there was nothing that could be done about it so I have dealt with it for all these years.
Recently I saw a review for GelPro and I knew that I had to give it a try. GelPro makes mats that can be used in your Kitchen, Bathroom, Utility Room, Garage or anywhere else you might be standing for long periods of time. GelPro is a gel mat that helps you to stand comfortably.
When using this mat I can feel it form to my feet. The mats soft gel core not only gives me a soft surface to stand on but it is helping eliminate pain throughout my body. GelPro mats also have a high-traction bottom which allows the mats to stay in place and not slide around all over the floor.
GelPro mats come in a variety of designs and colors. I loved knowing that I would be able to do my dishes in comfort but to have a beautiful style that fits with the decor was a huge bonus! The mats are also easy wipe clean and they are mold and mildew resistant making them a perfect fit for just about anywhere you will be standing. Even Rachel Ray featured the GelPro on her show stating that it "Feels like your standing on a giant gummy bear." She was right…in a good way of course!
If you are getting a sore body after standing around during the day I really recommend you look into GelPro. The mats are available in a variety of sizes and styles and can be purchased at http://www.gelpro.com/!
*I was sent product for the purpose of this review. However, my own opinion was used and not influenced in anyway!