My Thoughts on Dinosaur Train and VTech MobiGo
When my daughter was getting ready for Kindergarten the MobiGo was not available. But I knew that Learning Systems like this would be a great way to allow my daughter to learn in a form that was interesting to her. So I purchased a VTech Learning System that was available at that time and I must say although my daughter is now 7 it is still one of the best purchases I have ever made!
Kids have a fascination with electronics. That is a fact! So why not let them play with something that is made for their age (3-8) and will be educational at the same time? The VTech MobiGo has all the advanced technology that kids are looking for; touch screen, keyboard, and there are lots of great games you can purchase so your child can focus on learning Vocabulary, Math, Problem Solving and more.
Recently I was sent a VTech MobiGo for the purpose of my review. I was thrilled because not only did I get to review this awesome MobiGo with the kiddos but also a fun interactive New Dinosaur Train MobiGo game for ages 4-6! The Dinosaur Train MobiGo game teaches Science, Animals, Letters, Spelling, Memory and more. I love that I can now purchase Dinosaur Train games because the kids relate to Buddy, Mr. Conductor and Tiny as well as the other fun loving Dinosaurs on Jim Henson's Dinosaur Train!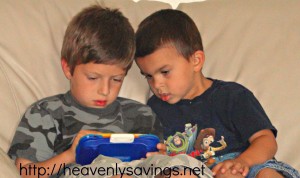 As most of you know I babysit children during the day. There is one little boy who I have had a very hard time teaching. He has no interest in learning his colors, numbers, etc… Each day I take the time to work with him even though I know he is not paying much attention to be and shuts me out on purpose because he doesn't want to learn. This Dinosaur Train MobiGo Game could not have arrived at a better time. Dinosaur Train is by far his favorite cartoon ever and this past week he has been excited to learn his letters with Buddy and Tiny. This is must like my daughter was when she was preparing for Kindergarten with her VTech and I am thrilled. These products are amazing for kids and can help them to learn in a way that is interesting to them!
MobiGo Learning System retails for around  $59.99  and MobiGo Cartridges around $19.99 – You can purchase them at many popular retail stores including Target, Walmart, and KMart!
You can also learn more and follow these companies via their media outlets by following the links below:
Follow Dinosaur Train:
www.facebook.com/DinosaurTrain
  Follow The Jim Henson Company: www.facebook.com/hensonparents www.twitter.com/hensonparents   Follow PBS Kids:
www.twitter.com/pbskids
www.facebook.com/pbskids
Follow VTech: www.facebook.com/vtechtoys www.twitter.com/vtechtoys   *I was sent a VTech MobiGo & Dinosaur Train Game for the purpose of this review, However my own thoughts were used when writing this review and I was not influenced in any way.