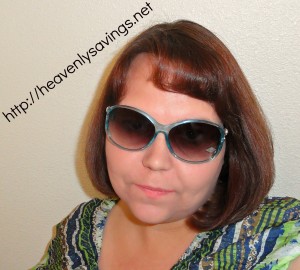 My Thoughts on Fashion-World4u Sunglasses
My favorite thing to purchase every summer is a new pair of sunglasses! Since I was in high school I have made it a point to get a great pair of sunglasses that fit with my personality. Usually they are a funky color  that I normally don't wear and I like them big! This might sound crazy but I really like my sunglasses to make a statement!
This year I decided my awesome sunglasses were going to come from Fashion-World4u.com because I love their designer designs and their low price! As I looked through there site I seen so many pairs of sunglasses I would love to own but I narrowed it down to a pair that was inspired by Bvlgari. To be honest I had never heard of Bvlgari before but their style of shades were right up my alley! I loved the fun blue color as well as faux diamond V on the sides! Okay….so a plus is also the quality as well as the UV 400 protection!
When shopping on the Fashion-World4u web site you will be able to break down your selection by style and color! If you are on the lookout for what the Celebrities wear you can look through their Fashion & Celebrity section or if you are into rhinestone glasses they have a category for that as well! There are also categories for Tattoo, Reading, Biker, Vintage and more!
Fashion-World4u has great designs for Women, Men and Kids! You will love their selection as well as quality! Don't pay designer prices…get Inspired by designs for the brands you know and love!
a Rafflecopter giveaway