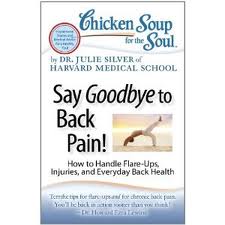 Chicken Soup for the Soul: Say Goodbye to Back Pain
I am no stranger to Back Pain. I have had pain in my back since I got pregnant with my daughter over 7 years ago. For some reason it just never went away. This is something I would never wish on anyone as lower back pain is horrible!
I was happy to review Chicken Soup for the Soul: Say Goodbye to Back Pain because I know this is an issue that many of you might have. It is also unlike any other Chicken Soup for the Soul book I have ever read and I was surprised they even had one for back pain. Chicken Soup for the Soul: Say Goodbye to Back Pain is written by Dr. Julie Silver of Harvard Medical School and also has other stories from others just like you and I. You will learn ways to help your back feel better and how to deal with flare-ups and chronic pain.
On The Back
Back and neck problems can be debilitating. This book will help. Through proper exercise, common-sense living, and a positive attitude, you can overcome injuries and maintain a healthier back and neck.
Read stories from people just like you who have learned how to manage their back and neck issues, and recover from injuries. Dr. Silver's practical explanations and tips will help you stay flexible and pain-free. You'll read about:
Preventative exercises to ward off problems, with easy-to-follow instructions and diagrams.
How to protect your body every day to maintain good back health.
How to think like a doctor and get the right diagnosis.
How to use your mind to reduce pain and injuries.
How to pick the correct course of treatment and the right medical professionals to help you.
Clear explanations and diagrams to help you understand your anatomy.
What to expect during physical therapy, surgery, and other procedures.