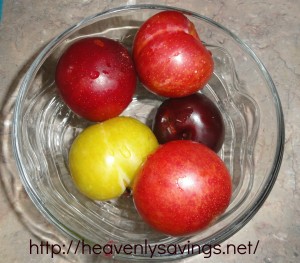 Recently Thanks to Bountiful Baskets I was able to purchase a box of plums! The box contained a huge variety of plums and I was trying to figure out fun ways to use them up! As most of you know that my daughter just went back to school so making fruit leather that she could take in her lunches seemed like a perfect fit.
Ingredients:
Plums 4 Cups (about 12) Lemon Juice Sugar water Cookie Sheet Microwave safe Plastic Wrap
1.  To start off you will want to select plums that are ripe and firm. You will need to peel the skin off and remove the seeds.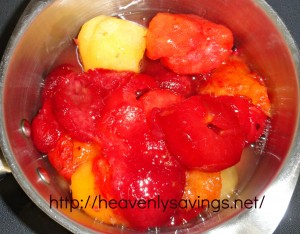 Once the 4 cups of plums are skinned and seeded you will need to place them in a saucepan in 1/2c water. Bring to a simmer and cover. Let cook about 10-15 minutes or until the plums are cooked through. While they are cooking I pre-heat the oven as low as it will go…for me that is 170 degrees.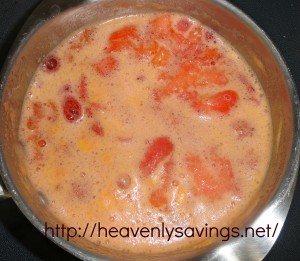 After plums are cooked you will need o use a potato masher and mash up fruit until they are fully mashed.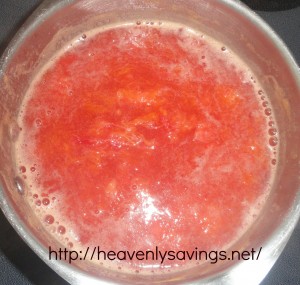 After you are done mashing the plums in the pan you will then need to add lemon juice and sugar. Add each 1 tsp at a time until you get the desired flavor you like. I added 1 tsp lemon juice and 1/3 c sugar. At this time you can also add cinnamon, nutmeg or any other seasoning you might like.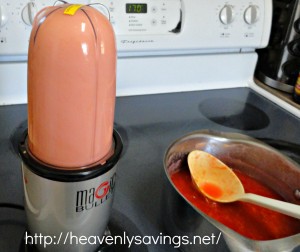 After you get the taste of the fruit to be exactly how you want it you will need to blend the plums a blender or Magic Bullet as I have done.
Then you will need to cover the cookie sheet in microwave safe plastic wrap. Make sure it is up over the edges but not long enough to touch the oven rack when placed in the oven.
After plums are fully blended you will need to pour the mixture onto the cookie sheet that has been covered with plastic wrap.  Mixture should be about 1/8″ – 1/4″ thickness.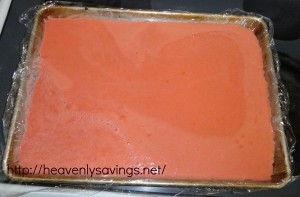 Make sure that none of the plastic folds over your mixture because it will not dry if it does!!
Place cookie sheet in oven (heated 140-170 degrees) and let dry in heat for 8-12 hours.
You will know when the fruit leather is done by touching the top. It will no longer be sticky and will feel smooth to the touch.
After it is fully dried you will need to leave it sit for about 20 minutes. I then remove it from the plastic that it cooked on and place it on a new plastic wrap sheet and roll up! Then place it in an air tight container and in the fridge or you can also freeze it!
 ** If you have a dehydrator you can dry the fruit leather in there as well by covering the trays in plastic wrap or purchasing the plastic fruit leather trays.