Ever since moving into my home 4 years ago I have been trying to go room by room and re-decorate. When my husband and I moved in together we both had a crazy mix of furniture that had been handed down from different family members and all of it fitting together just does not flow!
Recently I have been looking for high quality bathroom furniture to help my bathroom match! For the first time I have a bigger bathroom that actually has double sinks and I will now be able to place more furniture inside! For example check out this set….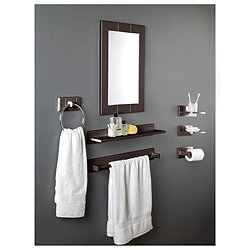 It would be great to have a place to keep my toothbrushes, lotions, perfume, hair accessories, hand soap and more where is is not cluttered and off the counter!
I also love,love, love the look of the baskets! Currently our towels and such are residing under my hubby's sink which is not allowing room for the personal care items he uses like her hair clippers, razors and such. This will help free up a lot of space and I could decorate it super cute!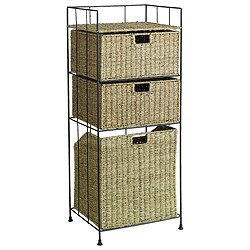 The last thing I am on the lookout for to help put my bathroom decor together is storage inside the bathtub. Between my husband and I there are so many different bottles of shampoo, conditioner, body wash, facial cleansers, etc… Currently we have a cheap plastic suction-cup thing that does not work AT ALL and it continually is falling off the wall! Check out this shower caddy that I found! I love the overall look and design of this caddy plus it will not fall off the wall and it is big enough to hold everything! I am not sure if these will be the exact things I purchase while re-doing my bathroom but it is sure fun to shop! This stuff would fit nicely together and I am so excited to see it all put together!