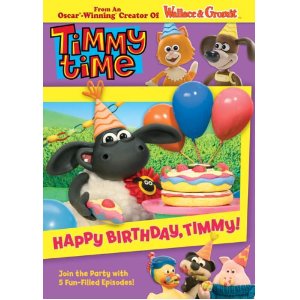 My Thoughts on Timmy Time
Happy Birthday Timmy
Timmy Time is still a new cartoon to me. I have seen a few of them but each one is new and different so I really enjoy watching them.
In this Wallace & Gromit adventure you will help Timmy celebrate his birthday. This DVD contains 5 episodes and 2 Bonus Features (Timmy Time Sing Along and Shaun the Sheep Episode:Timmy in a Tizzy) with over 45 minutes of Timmy Time fun! Episodes include: Timmy's Birthday, Count on Timmy, Timmy's New Friend, Timmy's Pet Problem, and Timmy Learns to Fly.
My favorite thing about Timmy Time is how much I get to laugh with my family while watching these adorable cartoons.
On the Back
It's a Happy Birthday BAA-sh with Timmy and his friends! Timmy cooks up a sweet solution after he almost spoils his party by eating all the cake; Timmy and Finalay find out they can always count on each other to share toys! Yabba shows Timmy he's a model pal; Timmy's new pet seems to be the life of the party and Otus helps Timmy reach new heights. Don't be sheepish – join in the fun and celebrate with Timmy and his friends!