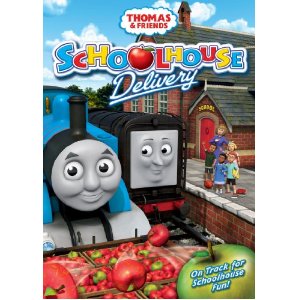 My Thoughts on Thomas & Friends
Schoolhouse Delivery
You all know how much I love Thomas! It is one of the cartoons I actually enjoy sitting down and watching with the kids. I love him so much that I even made it a point to take my daughter when she was younger to go ride Thomas for her birthday. It was a blast!
Recently I was sent Thomas & Friends Schoolhouse Delivery for the purpose of this review. I was stoked when it arrived because my daughter goes back to school in 2 weeks and this DVD was perfect timing!
In this cute DVD Thomas and his friends have an important delivery to make to the school house for the kids. It is not only the kiddo's that will get an education in this fun DVD but also Thomas's Friends as Percy gets to learn about responsibility.
On the Back
School's in session and there are important lessons to be learned on the island of Sodor. Diesel gets a hero's welcome when he makes a Really Useful delivery to the schoolhouse. Percy gets a lesson in responsibility after he runs into trouble trying to be like the bigger engines! Henry gets trained in how to handle health and safety emergencies, while Hiro teaches Thomas about his happy homeland. Join the Steam Team for a bright journey to the Head of the Class!