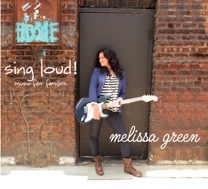 My Thoughts on Melissa Green
Sing Loud
Melissa Green: Sing Loud Album is filled with a twist to 50's style beats. As soon as the first song started to play I was up off the couch dancing around the house with the kids. I love the sound of Melissa Green's voice and all of the songs are up lifting and have danceable tunes.
There are 12 tracks included on Melissa Green's Sing Loud Album including:
Baby, I love you
Sing Loud
4 Nickels and a Dine (featuring Brooke Shields)
The Playdate
Get Up
Aboard That Train
Free To Be…You and Me
Two Birds
Heyo
We Got the Beat (featuring Brooke Shields)
My Love
Will I Dream in Colors?
As soon as I read through the song titles I knew this was an album I needed to hear…and knowing that a few of these songs featured Brooke Shields just made me want to hear them even more! Boy am I glad that I did! The tunes are perfect for the whole family with lyrics that you can relate to and a voice that sings them crystal clear!
From Press Release
LOS ANGELES (June 5, 2012) — Award winning children's musician Melissa Green looks ahead with pride to the July 31 release of her fourth studio CD,Sing Loud!  Featuring two duets that mark the kids' music debut of guest artist Brooke Shields, Sing Loud! celebrates the art of having confidence, being who you are, and empowering yourself with the knowledge that you can do anything you truly set your mind to!
Known for her distinctive, warm, "wide open" vocal style, Melissa Green has been writing and performing music for families for nearly a decade.  Sing Loud! builds upon her previous work with a new depth of focus that emphasizes individuality, courage, and pride.  With the help of producers Lisa Parade and Bob Marlette (Wilson Phillios, Sheryl Crow, Tracy Chapman, Lynyrd Skynyrd), Melissa Green has created a kids' /family album that musically documents her eclectic range of listening favorites: blues, ska, Nashville country, '50s rock 'n' roll, and today's pop, invoking such influences as Johnny Cash, The Noisettes, Indigo Girls, The Romantics, Bob Marley, Ani DiFrancio, the Dixie Chicks, Mumford and Sons, and Eminem.
Sing Loud! conveys the message "Stand tall, be proud, have fun, and get up and dance!"  Songs run the gamut from invigorating kid anthems like "Heyo,""Sing Loud!" and "Get Up" (which features a chorus from Eminem's "Lose Yourself") and rockabilly tracks like "Aboard That Train" to a cover of the Go Go's poppy "We Got the Beat" featuring Brooke Shields.  
When asked about her collaboration with Brooke Shields, Melissa Green explains, "We met six years ago and have been friendly since then.  I knew that Brooke had performed in Broadway musicals (Chicago and The Addams Family), so when I was thinking about a duet partner for Sing Loud!, she came instantly to mind.  Brooke said 'yes' right away, and I have to say she is so kind and sweet that recording with her didn't seem at all like work!  She came to our sessions rehearsed and ready to go.  She was up for everything, singing the songs any way we asked.  Brooke has achieved so much in her lifetime, and she's stayed true to herself.  I admire her very much, and it was an  honor to work with her."
Melissa Green's Sing Loud will be out 7/31!