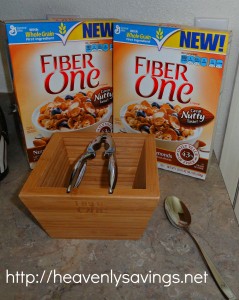 I know this might make me sound like a terrible parent but at times when life gets busy my family will have a bowl of cereal for dinner. I know that is probably crazy but it does beat going out to fast food restaurants and we enjoy having the occasional light dinner over the heavy dinners especially when we have had a busy day.
Recently I was provided with an amazing Fiber One Nutty Clusters & Almonds package for the purpose of this review and I will admit when it arrived I thought…NICE! There is dinner for tonight! It actually worked out great at I needed to review it AND my daughter had her back to school night so I knew we would be late getting home!
Fiber One Nutty Clusters & Almonds was amazing. To be honest this is the first time I have ever tried Fiber One and I was very pleasantly surprised by how wonderful it really was. If you have read my blog before you might know that I like my cereal to have nuts and clusters inside as I feel that it really helps the taste! This Fiber One just so happens to have both of those and almonds being the nut they chose just made it that much better! Another reason that I love this Fiber One is because it:
Contains 11 grams of fiber (43% of the Daily Value), 23 grams of whole grain (at least 48 recommended daily), and 180 calories per serving
Chock full of delicious crunchy nut clusters, real sliced almonds and whole grain flakes
That means not only was it tasty but healthy for my family to eat as well! Plus we will no longer be one of the 9 out of 10 Americans who do not get enough fiber!
If you are looking for more Fiber in your diet or an excuse for a quick and easy dinner (wink, wink) then I recommend you look into Fiber One Nutty Clusters & Almonds. It really is delicious and the health benefits are amazing!
Want to give it a try? Why not print off this great $1.25/1 Fiber One coupon!
Plus one of you will be able to score this great Fiber One Prize Pack! Just enter below! Good Luck!
"Disclosure:  The product, gift pack, information, and additional sample have all been provided by General Mills through MyBlogSpark."