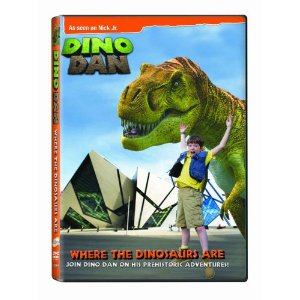 My Thoughts on Dino Dan
Where the Dinosaurs Are
Children love dinosaurs and when it comes to dinosaurs they have ton's of questions. Nick Jr. was brilliant in making a show that caters to those young minds and a show that will teach them everything there is to know about these mystifying creatures from a child their own age who can teach them.
In Dino Dan Where the Dinosaurs Are your child will learn about dinosaurs including Triceratops, T-Rex, Stegosaurus and more. The Dino Dan DVD includes 45 minutes of Dinosaur fun.
I love the Dino Dan show because it teaches kids facts about their favorite dinosaurs in a way that is fun and educational. Each time I put Dino Dan into the DVD player the kids are glued to the TV and soaking up all the knowledge that they possibly can. Dino Dan will teach them everything about paleontology and your kids will have a blast learning about why T-Rex has small arms or the facts about fossil skeletons!
On the Back
Follow the adventures of paleontologies-in-training Dan Henderson as he imagines dinosaurs into the real world! Join Dan as he teaches a baby Triceratops defensive moves to help it get around a meat-eating Spinosaurus! Then find out why the T-rex has such small arms when Dan and his friends embark on a sleepover adventure at the famous Royal Ontario Museum. Tour the museum and learn about real fossil skeletons, from the Stegosaurus to the Tyrannosaurus rex.
But then…watch out! The visit quickly turns into mayhem when some sneaky dinosaurs steal a T-rex claw from the museum! Will Dan be able to get the T-rex claw back before sunrise? Join the adventures in Where the Dinosaurs Are!