I can not believe my daughter starts school again on Monday!….YEP You read that right….MONDAY!!!
Every year when I was a kid my Mom prized herself on the first day of school photos. I know that first day of school is hard for me to capture a lot of images and I rarely have time for more then a quick snap or two of the lens. That is why every year before school starts I try to take my own portraits of my daughter a week before school starts.
This pas week I spent a day getting prepared for my daughters pictures. I know that sounds crazy but I am not a photographer and have never had any type of classes or anything to help me take pictures. That is why I researched different shots that I wanted to try out with my little girl. I also went to Hobby Lobby the day before these pictures were taken to check out little props that I could use in the shots. In these pictures below I only used a little school bus but I will be taking a few more photos this week in a different outfit with some other prop ideas…
The next thing I did was think about a place we could go that would be perfect for photos. I decided on a local park as I thought the back drop would be nice. I also made sure it was a nice and sunny day to give my photo's the best lighting as I do not have a professional camera and I don't have any zoom lenses or anything other fancy thing some photographers have.
On the day of the photos I picked out one of my daughter uniforms and curled her hair just as it would be if she were going to school. We then loaded up in the car and headed out….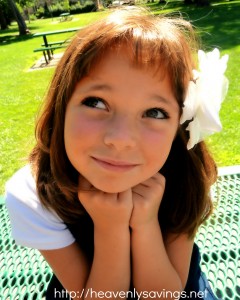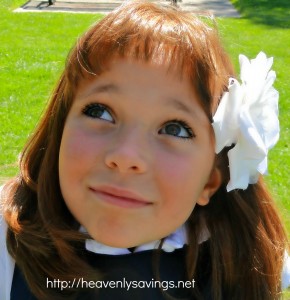 The first pictures I decided to take where my daughter sitting on a picnic table. I took the pictures with her back to the sun so I could eliminate the shadows in her face and squinty eyes. I really liked the day dream look so I asked her to focus on the sky.  I wanted to capture her face in these photos and none of the background so I zoomed in close to her face. I also snapped about  20 pictures to insure I would have at least one that I liked…I'm picky like that….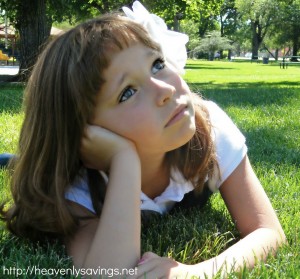 After the picnic table pictures I found a nice piece of grass for my daughter to lay in. These pictures can be tricky as you don't want their arms to appear too large and if they have their legs in the air the kids might look like they have funky legs growing out of their head. I laid on the ground about 2-3 feet away from my daughter to capture this shot. Again I took about 10-15 pictures before we changed shots because I did not want to get home and find something off kilter with the poses.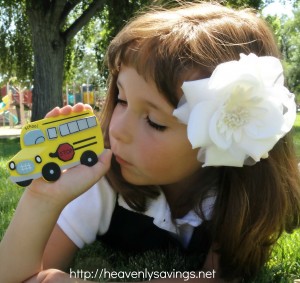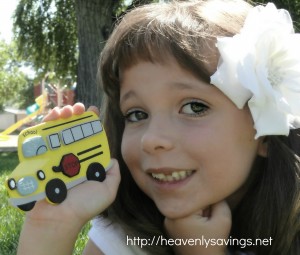 In the next pictures we decided to use the little school bus prop I purchased at Hobby Lobby. I had her do different poses with her arms as well as shots of her looking at the bus as apposed to just holding the bus.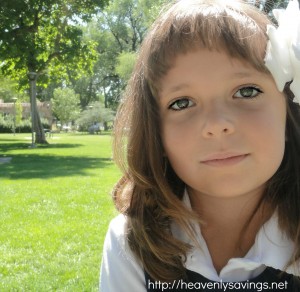 One type of picture I found on the internet that I really wanted to try was my daughter at the side of the camera lens with a long stretch of scenery on the other….This is my modified version of that picture as if I would have left the scenery any longer you would have got a view of a group of people having a picnic…but even with out as much scenery as I would have liked I still think this one turned out alright.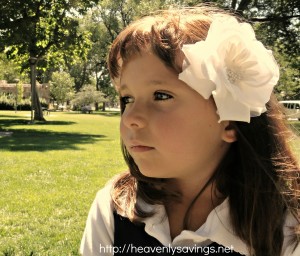 This is another variation of my daughter at the side of the lens. It also turned out to be one of my favorite photos as I just somehow captured her looking away at a 'Pink' car that was driving by.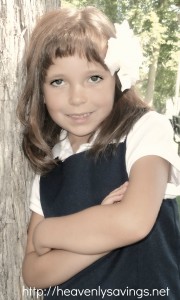 of course I had to take photo's of her leaning on a tree….these poses are a given for outdoor portraits!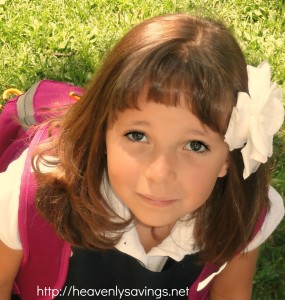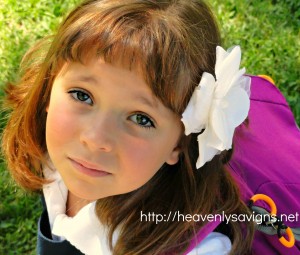 The next poses I wanted to do was my daughter with her backpack. These are 'Back to School' photos so her backpack seemed to be a perfect addition as a prop.
In these pictures I found a spot where my daughter could stand and I actually had a little hill above her. I loved being able to take shots of her while I was looking down and her and her up at me.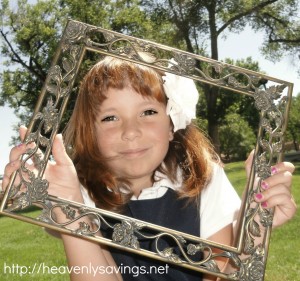 Another prop I knew I just had to use was a picture frame. I seen some kids pictures on the internet like this and I found them to be creative and adorable. I know it did not have anything to do with school but it was fun! My only downfall was I forgot about my daughters Hot Pink Chipped nail polish so this was the only good shot I got out of like 20. Her nails were the main focus in the other pictures…haha….I will re-take some of these with a different outfit AND fixed nails!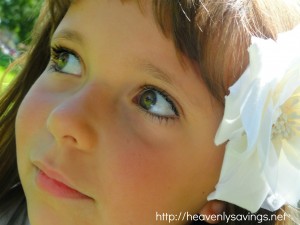 The last pictures I took of my daughter were close ups to the face. I love these types of images as it really captures a kids features. They are growing and changing so much when they are young so I like to compare the face close ups from year to year.
 As soon as we arrived home the fun began! I don't have any fancy picture software to edit my images with so I use a free website..PicMonkey.com! On that site you can edit to your hearts content fixing blemishes, air brushing, dimming and brightening photos and more! You will love everything you can do with your pictures on this site!